About Page Clone (Core)
Provides ability to clone/copy/duplicate pages in the admin. Adds a "copy" option to all applicable pages in the PageList.
Category 1
Admin Helpers
Admin helper modules are those that provide helpful tools, UI enhancements or optimizations to the admin panel (excluding Fieldtype or Inputfield modules).
Category 2
Process Modules
Process modules are apps that run in the ProcessWire admin.
Category 3
Core Modules
Core modules are those already included with the ProcessWire core, but not necessarily installed. Most modules listed here can be installed by going to the modules screen and clicking "install" next to the module name.
Release State
Stable
Should be safe for use in production environments. *
Author
ryan
Module Version
1.0.0
Class Name
ProcessPageClone
Compatibility
2.2, 2.3, 2.4, 2.5, 2.6, 2.7, 3.0
Date Added
July 27, 2012
Recommended By
Details
This module can clone individual pages or entire trees of pages.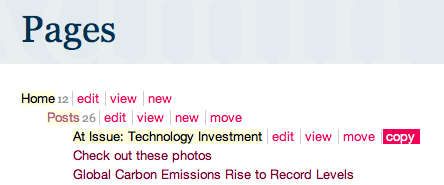 Instructions
This module is already included with the ProcessWire core. To install, simply go to Admin > Modules > Process > Page Clone > install. Once installed, you will see a "copy" link for applicable pages in your admin page list.

This module also installs two new permissions:

page-clone: permission required to clone individual pages.
page-clone-tree: permission required to clone trees of pages.
If you want your non-superuser roles to have access to page clone features, you should add one or both of these permissions to the applicable roles.
Disclaimer
*Use modules at your own risk. There are no guarantees or warranties. It is recommended that you backup your site and database before installing new modules.