About Page Autocomplete (Core)
Multiple Page selection using auto completion and sorting capability. Intended for use as an input field for Page reference fields.
Category 1
Input Fields
Inputfield modules that provide a UI input widget in the ProcessWire admin.
Category 2
Core Modules
Core modules are those already included with the ProcessWire core, but not necessarily installed. Most modules listed here can be installed by going to the modules screen and clicking "install" next to the module name.
Release State
Stable
Should be safe for use in production environments. *
Author
ryan
Module Version
1.0.1
Class Name
InputfieldPageAutocomplete
Compatibility
2.2, 2.3, 2.4, 2.5, 2.6, 2.7, 3.0
Date Added
July 27, 2012
Recommended By
Details
This Inputfield connects the jQuery UI Autocomplete widget with the ProcessWire ProcessPageSearch AJAX API. It is designed to be used with multi-Page Reference fields (FieldtypePage).



Instructions
This Inputfield is included with the ProcessWire core, but is not installed by default. To install, go to Admin > Modules > Inputfield > Page Autocomplete > install.

When you create a page reference field, choose PageAutocomplete as the Input field type on the input tab of the field settings.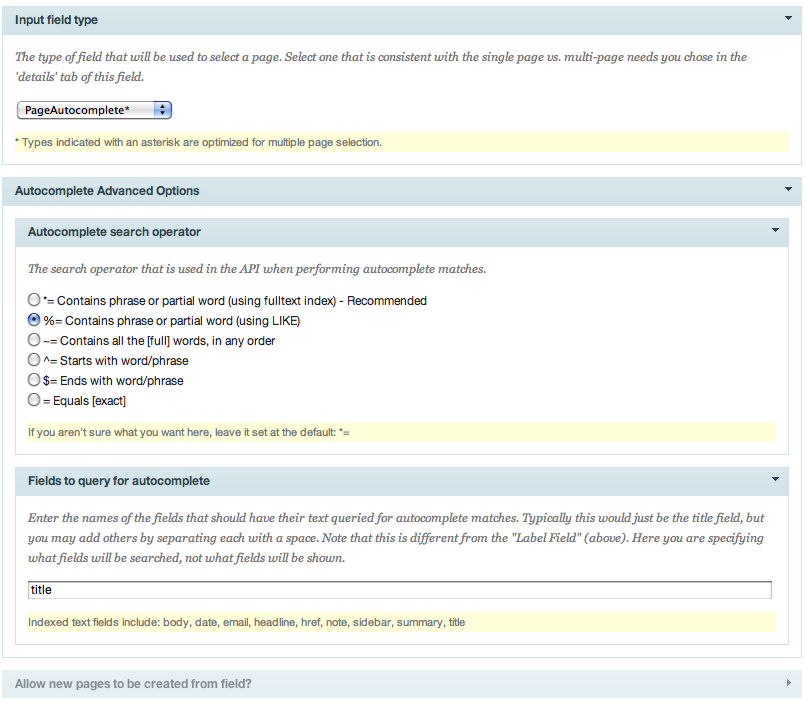 Disclaimer
*Use modules at your own risk. There are no guarantees or warranties. It is recommended that you backup your site and database before installing new modules.